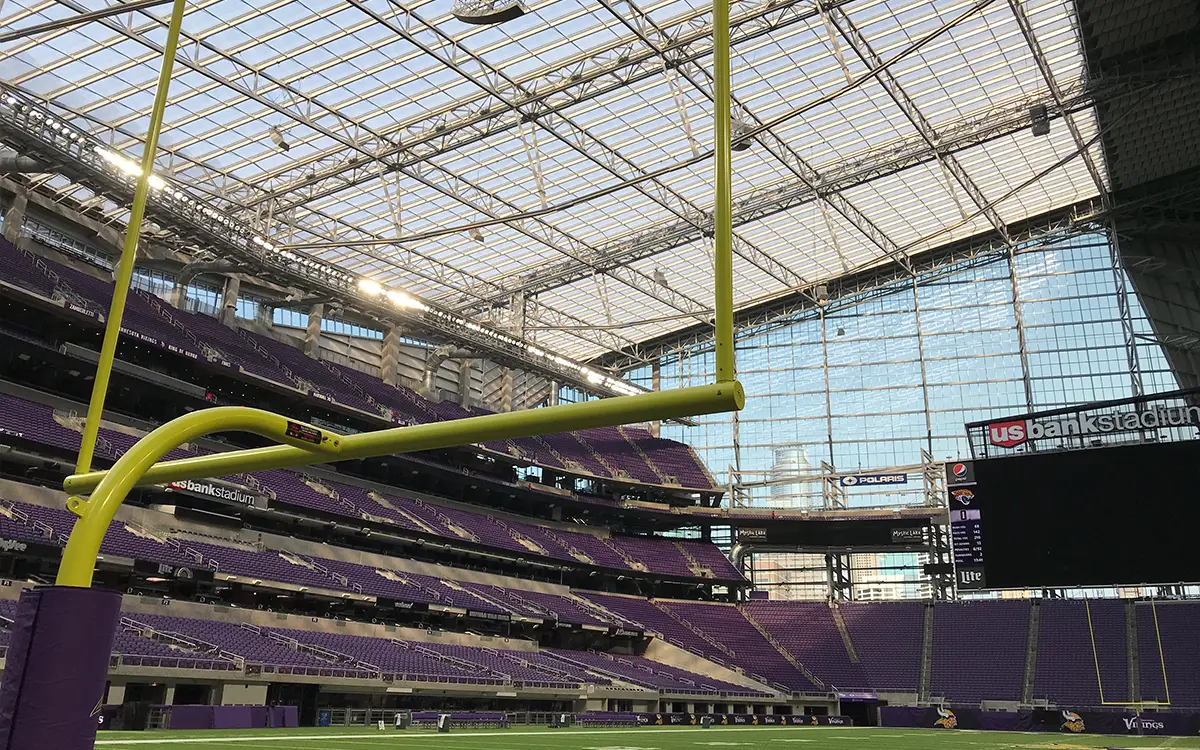 In 2008, Sportsfield Specialties' (SSI) AdjustRight® Football Goal Posts made their Super Bowl debut at University of Phoenix Stadium – This would be the beginning of a run of Super Bowl wins for the Delhi, NY sports equipment manufacturer.
Once again, SSI's AdjustRight® Football Goals Posts will be featured at the Super Bowl, which takes place at U.S. Bank Stadium between the Philadelphia Eagles and New England Patriots on February 4th. The hosting multi-use venue is home to the NFL's Minnesota Vikings, NCAA baseball, world-class soccer, and is a major concert venue for the Minneapolis area.
"Our football goal posts will be getting the spotlight on Super Bowl Sunday," said Michael Mercadante, Midwest Regional Sales Manager for SSI. "It's hard to ignore the 35', bright yellow field goals; they play such an important role in the game." But according to Mercadante, football goal posts are just the tip of the iceberg. He explained that SSI, and their Promats Athletics Stadium Division played a crucial role in the $1.1 billion construction project as the leading field equipment manufacturer / supplier. He said that most of the equipment was custom engineered to accommodate the unique architectural design of U.S. Bank Stadium and for efficient venue transformation between playing seasons and events. Equipment included:

"Our experience working with Sportsfield Specialties has been a positive one," explained Ed Kroics, Operations Manager at U.S. Bank Stadium. "Outfitting a stadium with field equipment for multi-sport use is a huge undertaking, requiring immense amounts of customization – The team at Sportsfield successfully handled the challenges that arose."
SSI's relationship with the Vikings will continue as the organization expands their campus to Eagan, MN on a 200-acre parcel. The project includes the construction of a new indoor stadium and several outdoor playing fields, which will all be outfitted with AdjustRight® Football Goal Posts. Additionally, the campus will include a medical care facility, housing for NFL players, hotels, restaurants, and retail shops.
Mercadante concluded, "It's been a great opportunity to be a part of this incredible project and it's also pretty neat that Sportsfield gets to showcase at least some of our work on the biggest night in football."