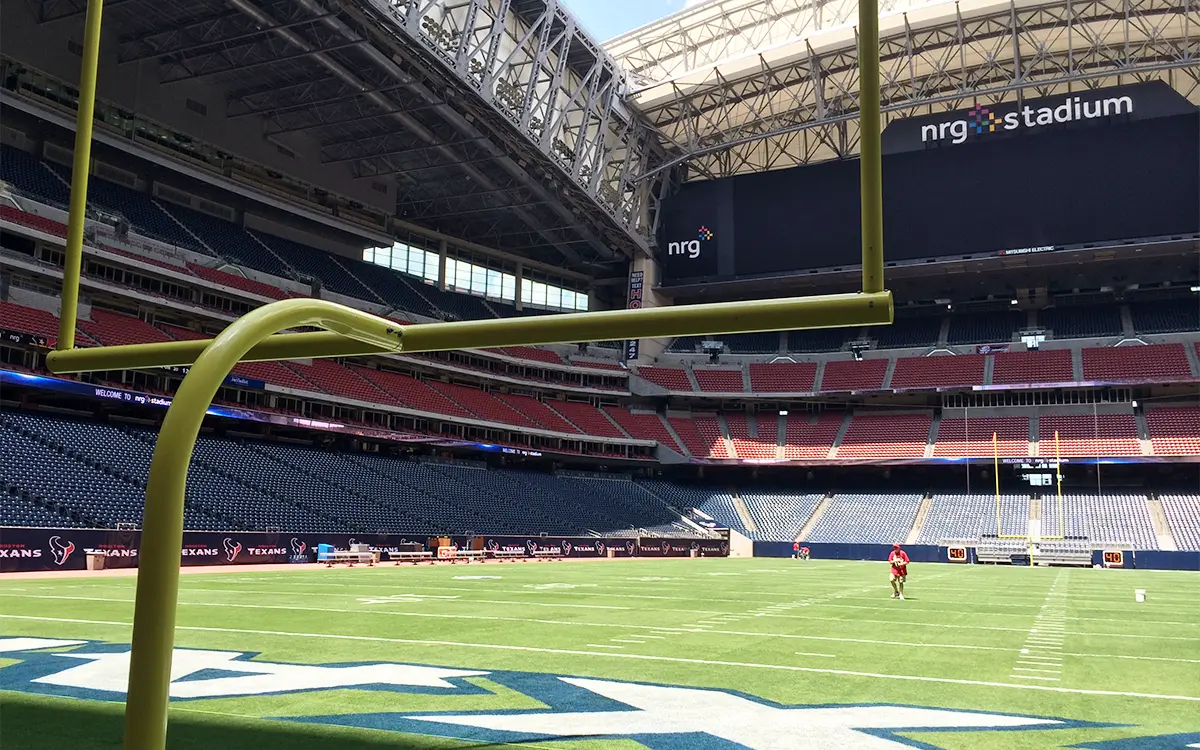 For the third time in the past four NFL seasons, football goal posts manufactured by Sportsfield Specialties, Inc. (SSI) in Delhi, NY will make an appearance framing the playing field at the Super Bowl. This year's game will be hosted at NRG Stadium in Houston, TX on Feb. 5.
According to SSI, their football goal posts were also used at MetLife Stadium in 2014 when the Seattle Seahawks downed the Denver Broncos 43-8 and again in 2015 when the New England Patriots defeated the Seahawks 28-24 at University of Phoenix Stadium in Glendale, AZ. It was in 2008, also at University of Phoenix Stadium, when SSI posts were first used in a Super Bowl as the New York Giants upset the New England Patriots 17-14.
"Our connection to the Super Bowl is a source of pride for everyone who works here," said Wayne Oliver, President of SSI. "It's the best possible example of how our employees have put our products on the map."
SSI had their "big break" in 2014 when the NFL increased the height requirement for uprights from 30' to 35'. That meant not only taller uprights, but new engineering requirements to assure the strength and safety of the equipment during inclement weather. With their extensive experience in engineering and manufacturing and ability to meet the demands of customers through custom design, SSI became the goal post source, now with goal posts in 23 (of 31) NFL stadiums.
Sportsfield Specialties was established in the late 90s with a focus on the growing needs of multi-use athletic facilities, a result sparked by the advent of synthetic infill turf. Oliver explained that the material allows for more traffic from multiple sports without the wear and tear associated with grass fields. In 2006, SSI patented their signature AdjustRight® Football Goal Post, designed for easy correction of the upright plumbing caused by nonconformity at the construction site during installation. A few years later, in 2012, the company released their rotating goal posts, as well as a rotating and hydraulically hinged model.
"We engineer equipment that specifically addresses the needs of our customers," said Oliver. He explained that the rotating feature was designed for multi-use fields where the goal line is shared by both soccer and football. The user can rotate the crossbar and uprights 180 degrees, preventing possible interference during a soccer match. The hydraulic feature allows the user to safely lower the football goal post in less than 15 seconds using a hydraulic hinge, ideal for venues hosting non-football related events.
NRG Stadium, home of this year's Super Bowl (and the Houston Texans during the regular season), is one of the busiest multi-purpose stadiums in the nation and, thanks to Sportsfield Specialties, owns goal posts for all occasions. The venue has the three AdjustRight® goal posts (one backup in case of damage) with 18'6" crossbar, which can be used by professional and college players, and a set to accommodate area high school football games with a wider 23'4" crossbar. Additionally, SSI's sister company, Promats Athletics in Salisbury, NC, provided end zone and side line padding to NRG Stadium.
Sales Manager for the Southwest Region, Chad Rockefeller added, "It's pretty remarkable to see something made in your hometown play such a huge role at one of our country's most popular sporting events." Rockefeller coordinated the sale and installation at NRG Stadium, among other high profile sports construction projects.