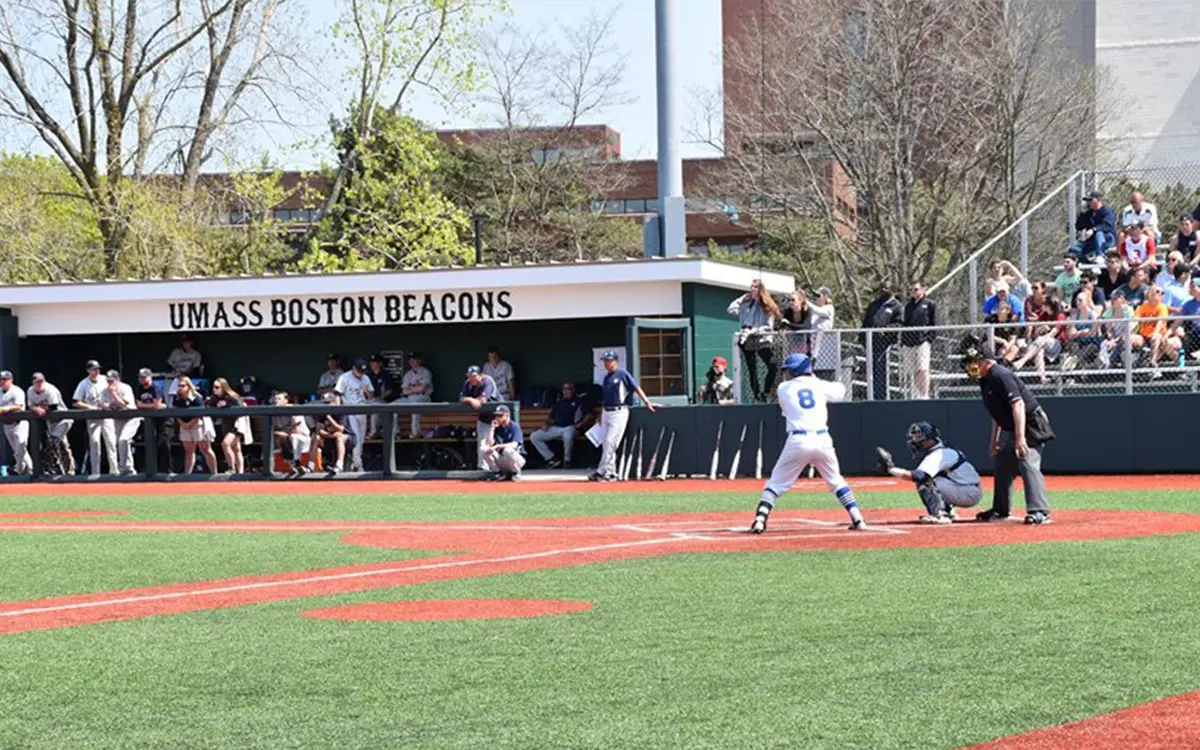 Every young baseball player in New England dreams of blasting a home run over the famed Green Monster in Boston's Fenway Park. Now, future players for Boston College High School, UMass-Boston and in Greater Boston youth leagues can swing away at a version of the iconic 27-foot-high wall.
This Green Monster looms over left field at Monan Park, the new shared home of the baseball teams at Boston College High School and UMass-Boston. Monan Park, located on Columbia Point in Dorchester, MA was designed and built as a replica of Fenway Park with identical field dimensions and the same quirky nooks and crannies as the historic Boston ballpark.
Stepping into an important role supplying essential equipment to Monan Park and an adjacent secondary field (SF) was Sportsfield Specialties Inc. (SSI), which was specified by the project designer, Activitas of Dedham, MA.
Known throughout the sports construction business as a one-stop equipment source for new baseball facilities, SSI provided the following to the project: custom designed tension backstop netting system (Monan), standard protective netting to enclose the secondary field, two 40' foul poles (Monan), two 30' foul poles (SF), benches, storage cubbies and padding for home and visiting team dugouts (Monan), one PortaPitch portable pitching mound (SF), 6' high green protective padding for the entire outfield wall (Monan), padding for the backstop and dugout railings (Monan), wind screens for the entire length of the replica Green Monster that, when connected to the lower 6' feet of wall padding, extends to reach the required height of 27' (Monan), one customized batter's eye (Monan), wind screens to enclose the backside of the bleachers along the pedestrian walkway (Monan), and finally, one batting tunnel located between the two fields.
"From the moment we first saw the drawings, we were excited about this project," said Matt Moyse, Northeast Regional Manager for SSI. "Our strengths in custom design are widely known, but what could be more challenging than replicating the unique look of Fenway Park? That our equipment helped make it possible, gives us great pride."
Monan Park offers seating for 500 spectators, full lighting for games and practices along with an enclosed press box. It is the first truly home field in the history of the UMass-Boston baseball program. This summer, Monan Park will host the 2016 Bay State Summer Game Baseball Showcase, the Boston Urban Baseball Showcase and the Massachusetts vs. Connecticut Junior All-Star Game. Greater Boston youth leagues will play there exclusively after BC High School and UMass-Boston conclude their seasons.