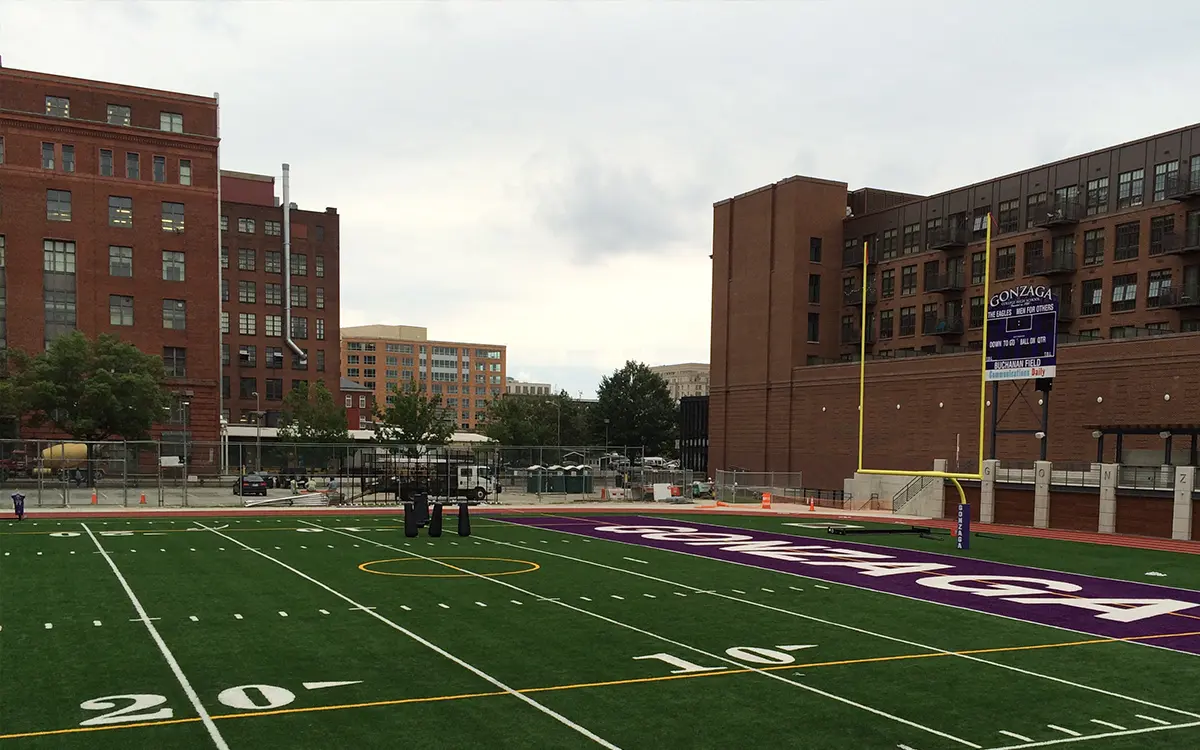 Thanks to the expertise of its in-house engineering staff, Sportsfield Specialties Inc. (SSI) often gets the call to work on unique projects. Gonzaga College High School's new multi-sport Buchanan Field can be put in that category.
Normally, preparing the ground mounts to outfit this versatile athletic venue with essentials like football goal posts and safety netting would be a straightforward job. However, when a concrete underground parking garage lies beneath its surface, there's a definite need for customization.
With no more parking space available in the already-congested neighborhood surrounding the campus, school officials asked the two collaborating design firms— Geier Brown Renfrow Architects LLC and Brian Stephenson & Co. LLC– to build a single-level space for 300 vehicles directly under its new multi-purpose athletic field. For the new Buchanan Field, which is used for home football and lacrosse games and for track and field, soccer, and rugby practice, the overriding goal for the design teams and SSI was to effectively waterproof the garage from above.
While the SSI football goal posts at Buchanan are the standard Plate Mounted 8' Offset High School model with 30' uprights, an atypical installation was required whereby the access frame was eliminated in order to fully seal the base plate mount from moisture. As for the amount of semi-permanent safety netting necessary to enclose the field (inside the running track) during lacrosse games, the refinements in terms of installation and product were notable.
Commonly, SSI installs 24" long aluminum ground sleeves for the poles supporting its 10' high safety netting. Because such a depth would bring the sleeves too close to the bottom of the concrete atop the parking lot, SSI custom built shorter sleeves of 13 1/8". The design team also requested that SSI customize the 26 ground sleeves by fabricating them out of stainless steel instead of the usual aluminum. Since the poles supporting the semi-permanent safety netting would not be embedded the full 24", all of them were made of steel by SSI to add structural support. The 26 poles combine to support two 230' spans of netting around each end zone. SSI also supplied four 50' spans of portable netting along with 16 aluminum poles and bases for positioning along each sideline.
Among the final competition necessities also provided by SSI were two soccer goals, two 12' team benches, and custom protective padding for the field's discus and shotput pads.