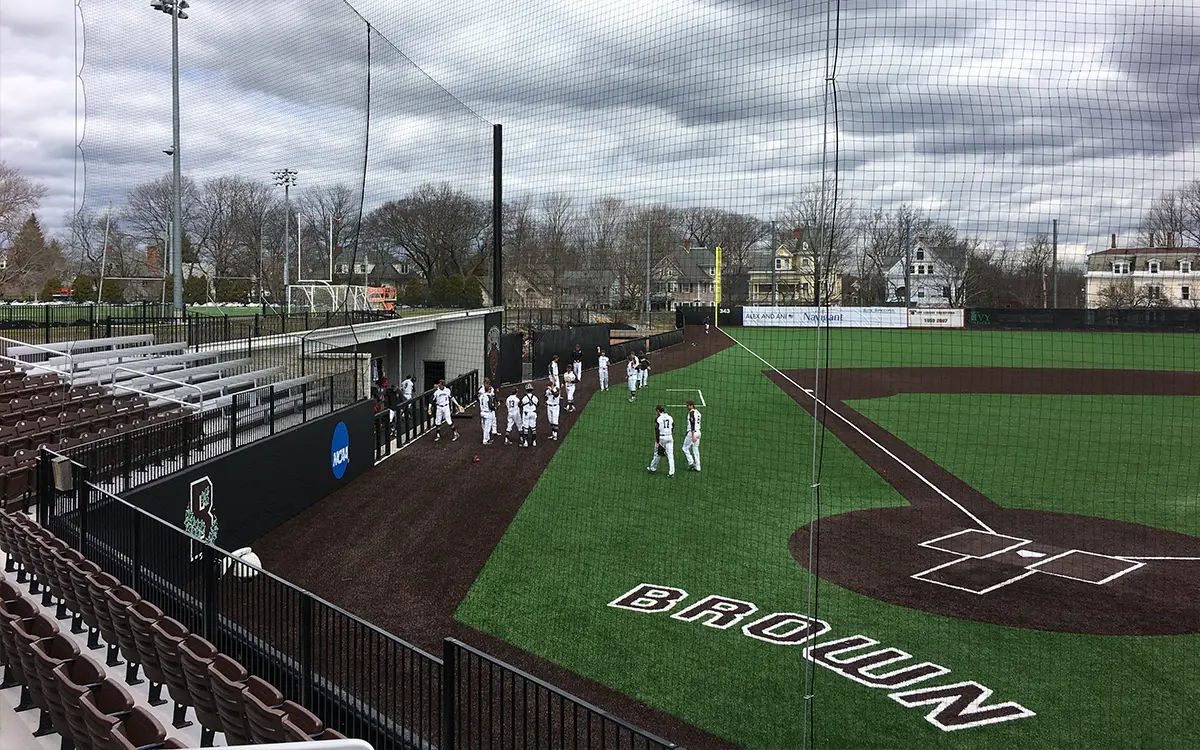 Brown University recently completed a $5 million upgrade to their baseball and softball fields making their complex the premier venue in the Ivy League and New England.
As the trusted leaders in sports construction equipment, Sportsfield Specialties, Inc. (SSI) was invited to work with designers at Gale Associates, Inc. and installers at R.A.D. Sports to upgrade the existing grass surface to a world-class synthetic playing field.
According to Matt Moyse, Northeastern Regional Sales Manager, the complex received SSI foul poles, customized windscreen, backstop and rail pads, batting tunnels; also, team benches and cubbies for their new sunken dugouts. An Ultra Cross® Knotless Dyneema® tension netting system was installed behind the backstop at the university's baseball field.
Moyse explained that because the dugouts are recessed 4′, the netting system's lashing was completed on-site after installation. This allowed for the netting to be in line with the backstop walls, but also the roof of the dugout. "The end result is a customized backstop system that ranks with some of the most prestigious stadiums in the country," Moyse said.
Ultra Cross® netting is used by numerous MLB, MiLB, and NCAA baseball venues and is known for its low-profile twine and knotless, braided construction. "Although other netting suppliers claim to have the strongest and best see-through visibility, 3rd party tests say otherwise," explained Moyse. "Our product came out on top."
In an article on Brown University's website, head coach Grant Achilles, notes that the unrivaled baseball and softball complex speaks to the programs goals of attracting competitive recruits and developing the school's program — It's a goal that SSI is proud to assist with.