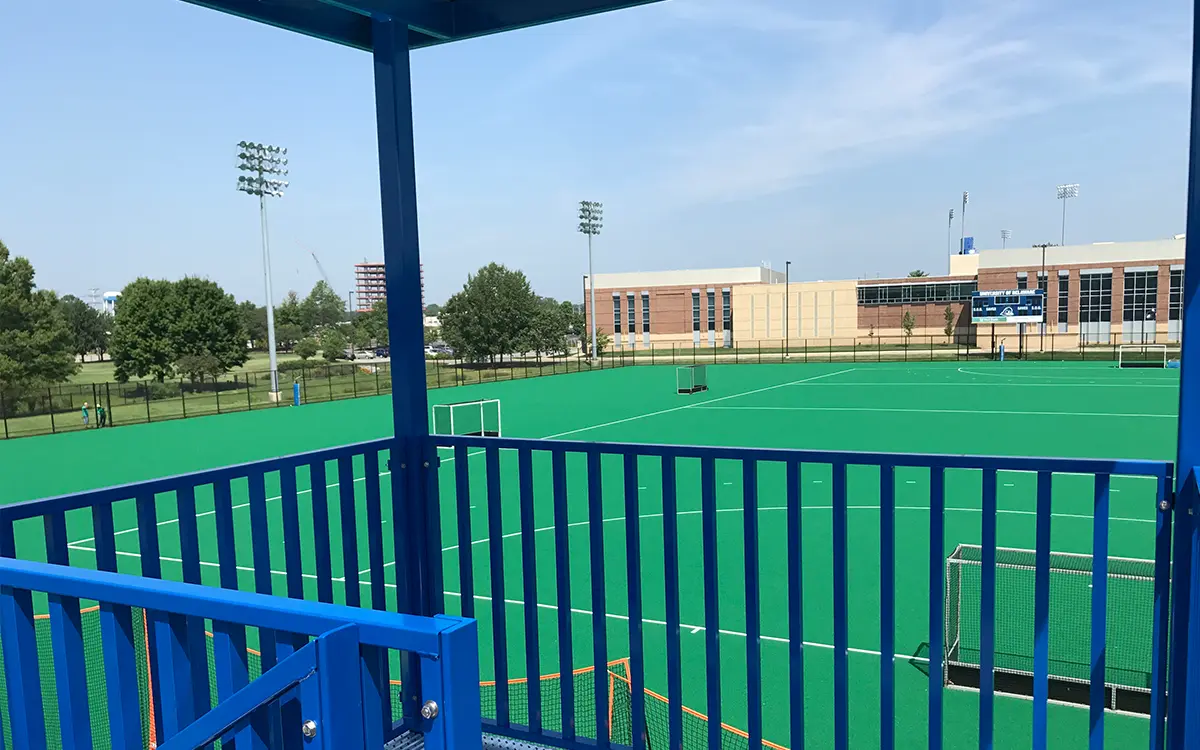 In 2017, Sportsfield Specialties, Inc. (SSI) introduced its first line of permanent filming towers, which two NCAA Division I colleges quickly took notice of. The University of Delaware purchased a 15'H SSI filming tower to support video coverage of games and practices at Fred P. Rullo Stadium, home of the 2016 NCAA Division I field hockey champions. Boston College ordered two sets of 20'H and 10'H filming towers to be installed at both their soccer and field hockey complexes.
The base plate-mounted permanent structures are constructed with powder-coated steel and aluminum, providing more stability and safety than portable towers or lifts that can fail in high winds. Standard SSI Filming Towers are available with 4' x 8' and 6' x 8' platform dimensions with elevations of 6', 10', 15', and 20'. Each tower includes a roof, picket railing with gate, and access by ships ladder or stairs. All parts of the tower, from top to bottom, are designed, engineered and manufactured by SSI.
At the University of Delaware, SSI worked on a tight schedule to complete installation before a pre-season ceremony in mid-August. The filming tower was powder coated with the custom hue, Blue Streak II, which achieved a successful match to the well-known school color used by the Blue Hens. In Boston, SSI added custom touches, such as drop-down front railings, vinyl weather enclosures, and lockable doors at the base of the towers to prevent unwanted entry.
SSI's roster of standard filming towers, paired with their customization abilities, helps the sports construction industry meet the demands of athletic programs who embrace the digital era. Jake Newkerk, Mid-Atlantic Sales Manager at SSI explained, "Video review and performance analysis are becoming the standard. SSI's goal is to fulfill the demand and offer equipment to capture elevated footage in a safe environment."