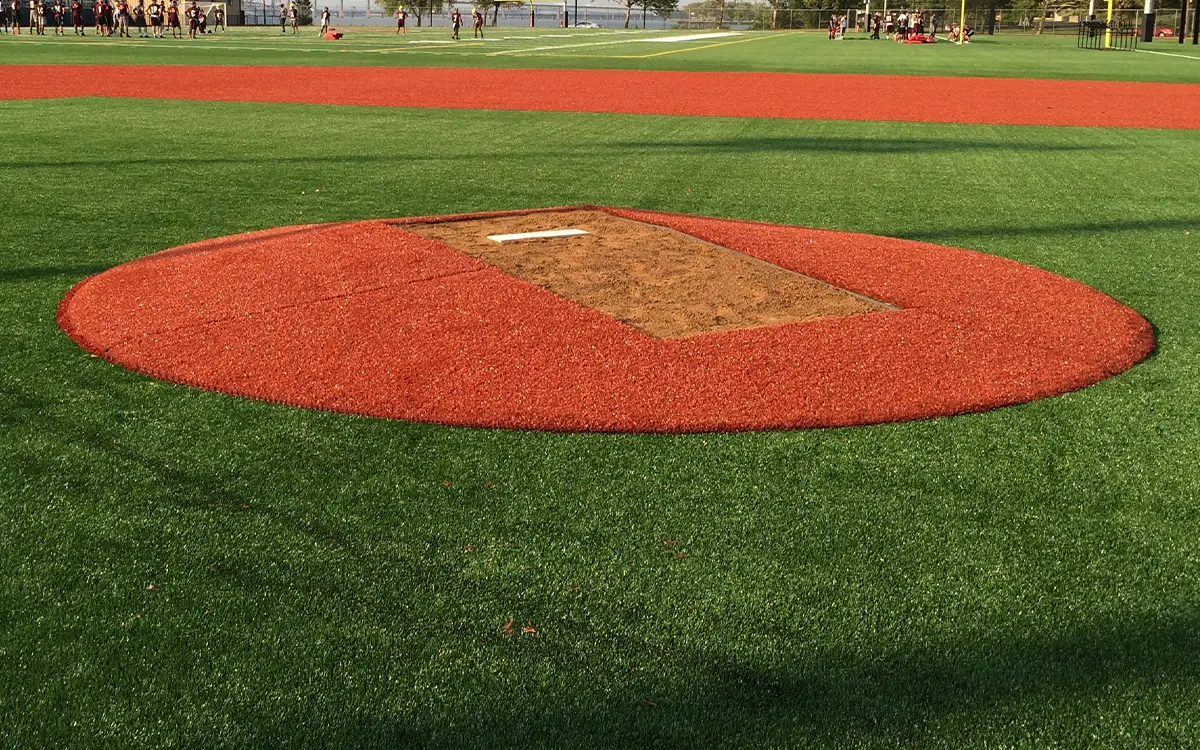 A listing of equipment shipped from the SSI factory in upstate Delhi, NY indicates the complexity of preparing to play four different sports within the confines of the same complex. In terms of volume, equipment essential for baseball and softball tops the list because both sports will be played concurrently during the spring and summer months.
For baseball, SSI supplied the following: three Porta-Pitch® portable pitching mounds each 18' in diameter (w/ transport cart), two GameShade® pre-fabricated dugouts, two 30' benches for each dugout, two 30' foul poles, two 180' lengths of 60' high portable safety netting to extend along the rightfield and leftfield foul lines, and a set of TurfBase® rubberized bases. For softball, SSI provided two 15' foul poles and a set of TurfBase® bases. Completing the order, SSI also provided 855' of its portable outfield fencing. The configuration of both fields will be determined by the outfield placement of the 3.5" high fencing, a segment of which will serve both fields.
To enable football and soccer competition, SSI supplied the football goal posts and soccer goals that are featured in its Rotating/Hinged GoalPak® High School Football/Soccer Goal System. Additional SSI products included a football netting system for use behind the goal post at one end of the field, two 160' lengths of 10' high portable safety netting for placement at the softball field, four 15' team benches (softball and soccer), and a covered scorer's table with custom graphics printed on the front padding and awning.
"Thanks to our previous experience working on multi-sport layouts with Carl O'Brien and the design team at Maser Consulting, we were able to work together as product manufacturer and facility designer to determine the specific products and respective layouts needed to best serve the facility," said Jake Newkerk, Mid-Atlantic Sales Manager for SSI, "The scope of the order indicates the complexity of outfitting overlapping fields in urban areas as well as the importance of our accessory equipment."
Built on Newark Bay in 1960, Veteran's Memorial Stadium has long played a major role in high school athletics in Bayonne. It currently serves as the home field for Bayonne High School, which stands nearby, and Marist High School, also in Bayonne Now, with its new synthetic turf…