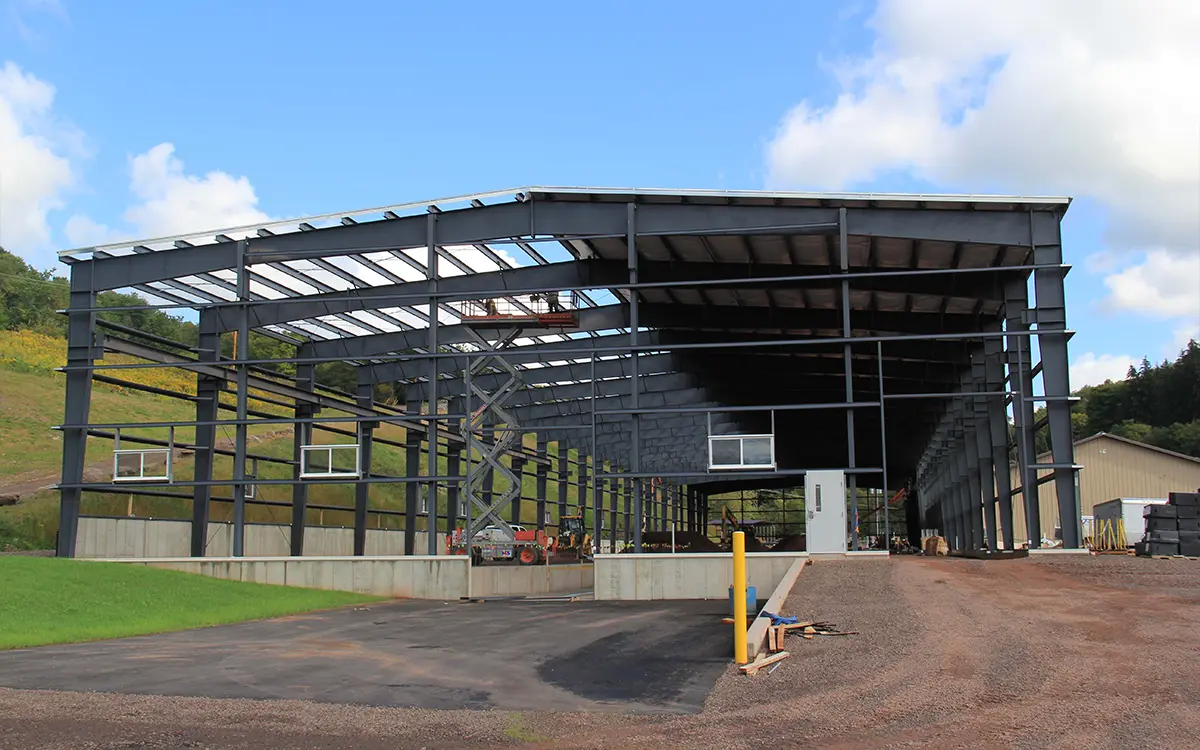 By 2014, after successive years of record-breaking sales, the handwriting was on the wall. If Sportsfield Specialties Inc. (SSI) was going to continue to grow and flourish, the sports construction equipment maker would need more space and increased production capacity at its Delhi, NY factory. Now, after a two-phase construction project that was completed in 18 months at a cost of roughly $7 million, SSI has answered those needs with an expanded 119,000 square-foot production facility that's equipped to deliver maximum efficiency in every phase of the highly specialized manufacturing that takes place within its walls.
After deciding to build a factory in Delhi in 2004, SSI was quick to serve the needs of the sports construction industry with its lineup of high quality sports competition equipment. At the same time, SSI's in-house engineers started winning over clients by designing customized equipment solutions. Demand grew so quickly that factory space was added in 2006 expanding the facility to 45,000 square feet.
Fueled by a construction boom and the accompanying need to equip multi-sport facilities at the high school and college levels, the demand for SSI equipment has increased across its entire product catalog. This increase, along with the company's diverse product lineup, ultimately put the squeeze on SSI's manufacturing capacity.
"The forces behind an expansion of this magnitude were both practical and economic," said Wayne Oliver, President of SSI. "From a production standpoint, we just couldn't turn out more orders in the space we had, meaning our growth potential was throttled. As for the economics of our industry, economists had forecast strong demand for our equipment from 2016 into 2019 that we wanted to capitalize on."
"To move through the transition and still produce record sales volumes shows just how motivated our production employees are," said Oliver. "This expansion is a game-changer and we couldn't have gotten it done without their energy and cooperation. It demonstrates how much they care about Sportsfield's customers and the products they produce and ship."After a four-month transition to the new space that included realignment of work stations, installation of new high-tech machines, and extensive work force training, SSI entered May 2016 on the verge of full capacity. Despite an occasional interruption of manufacturing during the transition, either to install or move equipment, SSI still chalked up month-over-month sales records to begin 2016. The results indicated the ongoing strength of new construction sales plus a notable surge in sales generated by the direct sales division, which began operations in 2014.
On the floor of the old factory, the strain on production was constant. "With so many different products, several never had a permanent location in the manufacturing process," said Eric Hulbert, Director of Operations for SSI. "As a result, we had to cope with frequent interruptions between fabricating stations. There were times when we had to move partially completed work around the factory floor three to four times before it could be finished. It was frustrating and brutally inefficient."
Now Hulbert can point to a strategic layout within the nearly 79,000 square feet of new fabrication space (up from 29,000 square feet) where every product line has a permanent set-up. The result is a continuous manufacturing process that moves progressively from raw material to finished product.
"With our newly optimized workflow we anticipate at least a 25% increase in production from a single shift," explained Hulbert. "We also enhanced working conditions and cut our lighting costs in half with the installation of new LED overhead lighting." Hulbert also went on to note that the new efficiency-driven process also makes possible another productivity boost, the hiring of new emplyees for a second shift, perhaps as early as 2017.
Further bolstering the bottom line impact of SSI's increased efficiency is the nearly $3 million worth of state-of-the-art equipment that was acquired to speed up work at several stations in the fabrication process. Topping the list is the HG 1003 ATC-Down-Acting-Hydraulic Press Brake made by Amada America in Buena Park, CA. Hulbert proudly noted that SSI is among the first five companies in the country to own this modern press brake technology. Equipped with an automatic tool changer, the machine is capable of needing as little as 15 to 90 seconds to automatically set up multiple bending stations. Compared to SSI's 12-year-old press brake, which will remain in use, Hulbert projects an 80% improvement in efficiency.
Also new on the factory floor at SSI is the LC2515C1 AJ Turret Punch/Fiber Laser Combination, also from Amada. Thanks to its continuous cutting movement, the fiber optic laser can cut sheet metal parts to shape three times faster than SSI's current equipment. The precision of continuous cutting also makes it possible to obtain more parts per sheet of metal and therefore decrease scrap metal by as much as 10%.
Further speeding up the manufacturing process is a new milling machine, the FRYER MB-14R CNC 3 Axis Bed Type with Tool Changer, made by FRYER Machine Systems of Patterson, NY. The new mill can be programmed for automatic operation which minimizes set-ups by changing it own tools. According to Hulbert, it can mill a standard base plate for a football goal post in just four minutes, whereas it previously took multiple set-ups and nearly an hour to do so.
The powder paint line's expansion has increased the operating space to 19,000 square feet from 10,000. Four separate booths have been installed and are used for each step of the painting process – washing, drying, spraying and baking. As with other stations, the layout has been designed for continuous work flow by allowing each step to be done in its own enlarged space.
The painting booth can now accommodate multiple employees spraying as much as 100% more equipment than was previously possible. The new washing booth, where all finished parts are washed in a light phosphate solution before painting, is also equipped with its own waste water neutralizing system, which assures that no waste water reaches local ground water. After being neutralized in a tank outside the washing booth, the water is removed and transported by tank truck to a local water treatment plant. In addition to the environmental benefits, the system is more energy efficient and less costly.
To further expedite production, SSI invested in five 5-ton Overhead Bridge Cranes, made by Material Handling Technologies (MHT) of Mooresville, NC. The placement of each crane makes transportation of heavy equipment from station to station throughout the factory and warehouse safer and more efficient.
Warehouse expansion from 6,000 to 22,000 square feet was the first phase of the overall project and took place over the winter of 2014-15. To assure a continuous flow of products from the factory to the loading dock for shipment, SSI's warehouse provides a staging area for cooling powder painted products and where hardware can be assembled and packaged for shipping. Beyond this area, the new warehouse features three loading docks, up from just one in the previous warehouse, which helps maintain volume of outbound orders.
Many specialized companies worked together closely to create SSI's new factory. From the ground up, Clark Companies of Delhi, NY served as project manager and did all excavation work. Building design was provided by Delta Engineers, Architects & Land Surveyors of Endwell, NY. The building was manufactured by Nucor Building Systems Group and erected by Tioga Building Co. of Herkimer, NY. All concrete work was performed by Wist Concrete Construction of Deposit, NY. Plumbing was done by Treffeisen & Sons of Oneonta. NY. The electrical system was installed by Freer Electric of Delhi while the gas delivery system was provided by Dubben Brothers, also of Delhi.
As part of the overall funding for the project, a $900,000 grant was obtained from the New York State Regional Economic Development Council with the assistance of the Delaware County Chamber of Commerce.