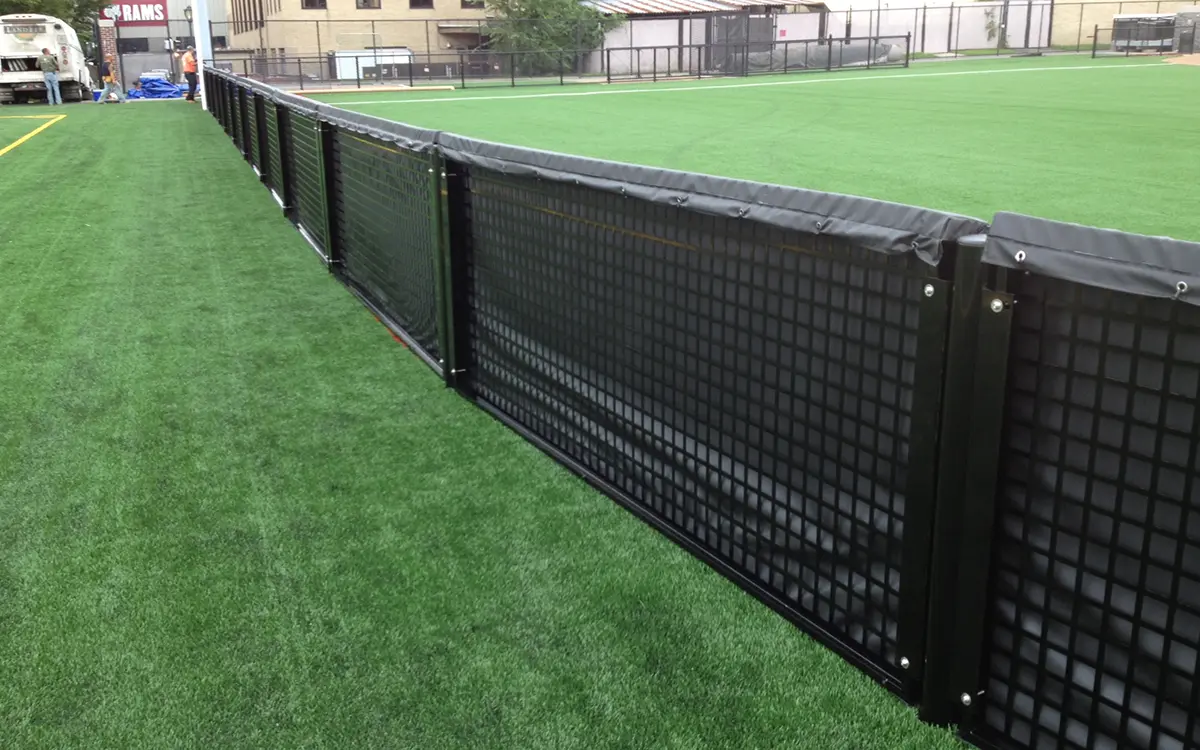 The 85-acre main campus of Fordham University sits tightly in the Rose Hill neighborhood of The Bronx in New York City tightly surrounded by The Bronx Zoo, the New York Botanical Garden, and Metro North railroad tracks. With no room for expansion, getting maximum functionality from its athletic fields is a must.
That's why Fordham administrators turned to Sportsfield Specialties Inc. (SSI) for innovative equipment and design solutions during their recent major reconstruction project. The goal was to outfit one large expanse of synthetic turf to meet the needs of no fewer than four of the school's NCAA Div. I teams. Although the venues have distinct names and identities—Jack Coffey Field for football and men's and women's soccer and Houlihan Park for baseball—they share common ground…
While dual use for football and soccer is primarily a matter of field markings, conversion of the playing surface into an enclosed baseball field posed a much greater challenge. The solution called for a new 6-foot high semi-permanent outfield fence to run from the right field foul pole to the left-center field, where it would connect to an existing chain link fence in front of the bleachers at Jack Coffey Field. The chain link fence thus extended to the left field foul pole to enclose the outfield.
In designing the new semi-permanent fencing for Houlihan Field, SSI called on its previous experience at Fordham's softball facility. There, it had designed and installed semi-permanent outfield fencing that was 3 ½ feet high. To accommodate a higher fence (with padding) for baseball, SSI engineered a revolutionary installation system of 60 ground sleeves to secure a total of 475 linear feet of fencing needed to enclose the right field and center field portions of the field. The ground sleeves, which descend 2' below the turf, are inserted with 4' round posts to which 4' wide x 6' high padded fence panels are bolted. The padding was made by SSI's sister company, Promats Athletics of Salisbury, NC. Rounding out the lineup of SSI equipment added at Houlihan Field were a pair of new 30' high foul poles and a new batting tunnel.
"Providing a six-foot high semi-permanent fence was a good challenge for us and we were happy to take it on," said Matt Moyse, Northeast Regional Sales Manager at SSI. "The end result is a true multi-purpose facility that serves three fall sports and a spring sport, something that's rarely achieved."
In total, nearly $150,000 worth of SSI equipment was devoted to the busy multi-purpose venue that hosts varsity, club, and intramural sports. While most was purchased to upgrade Houlihan Field, a new set of SSI's AdjustRight® football goal posts with 30' uprights was installed along with two accompanying 40' high x 40' long football netting systems for seasonal use at Coffey Field.