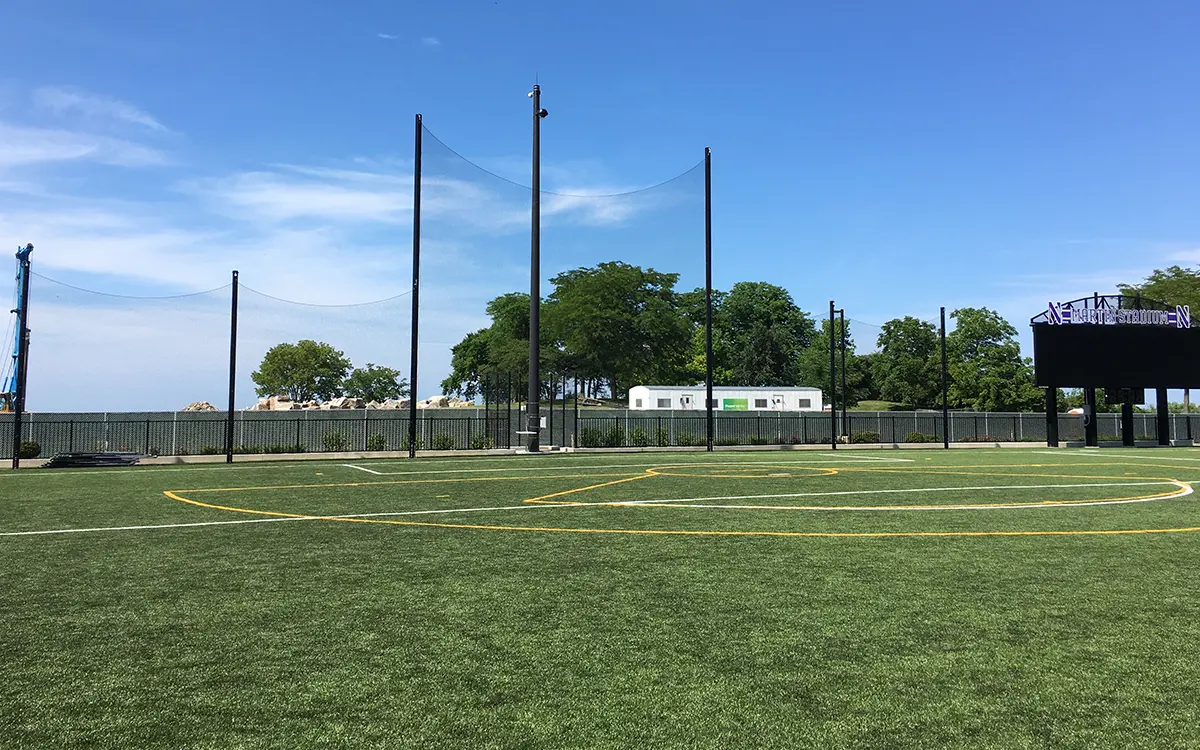 With a major expansion and renovation of Northwestern University's athletic venues on the horizon, lead designers at HOK / 360 Architecture sought out the knowledge and innovative solutions of the industry's leading manufacturer of sports construction equipment, Sportsfield Specialties Inc. (SSI) of Delhi, NY.
SSI's world-class athletic equipment was provided for the University's Martin Stadium, a newly renovated multi-use lacrosse / soccer venue and Hutcheson Field for football practice, intramural sports, and recreation. Equipment was also installed at the University's new Lakeside Field, a synthetic turf surface for the Wildcats' nationally ranked field hockey team.
According to Terra Erickson, Midwest Regional Sales Manager, SSI's reputation as the industry leader comes from the company's focus on providing innovative solutions for athletic equipment. Patents have been awarded to numerous products like SSI's AdjustRight® Rotating & Hinged Football Goal Post and StormGuard® self-release netting systems. Erickson notes that both products have been installed at the University's athletic fields.
"One of the most unique parts of the Northwestern project is that the AdjustRight® football goal posts can be moved to create multiple configurations," she said. With Hutcheson and Martin Field end zones butting against each other, Erickson explained that access frame mounts were installed at each end of Hutcheson and the far end of Martin. By rotating the center post toward the desired field and moving the other post into the far end zone of that field, operators have the ability to utilize either Martin Stadium or Hutcheson Field for football.
Engineered for ease of use and versatility, the AdjustRight® Rotating and Hinged football goal post is designed with a hydraulic hinge. This allows the user to lower the goal post safely and remove it altogether for non-football related activities.
Northwestern also incorporated SSI's StormGuard® and football safety netting in several locations. "Our netting systems are ideal for multi-use athletic venues because they provide a barrier that shields spectators from potential ball injury," explained Erickson.
She continued that StormGuard®'s engineered design makes it the safest option available. "Our systems are the first and only that allows the net to fall to the ground before pole or hardware failure due to adverse weather conditions." StormGuard® has been installed at the University's Lakeside Field, adjacent to the high traffic entrance and parking area. Football netting systems have been installed behind the end zones of Martin Stadium and Hutcheson Field.
Additionally, the project called for other SSI products including lacrosse goals and field hockey goals, international soccer goals, EnviroZone® field wall padding, and fence and post pads, along with various accessories.
Erickson said that in 2015 SSI was also contracted to provide equipment for Northwestern's Miller Park baseball facility expansion, designed by FGM Architects of Chicago and Populous® of Kansas City. SSI provided an outfield batter's eye, winged foul poles, fence and post padding, and a tension backstop netting system.
"The ball park is gorgeous," said Erickson. She explained that the new Hayden Clubhouse's unique and contemporary design incorporates the tension backstop netting system. And like any world-class facility, Northwestern chose "nearly invisible" Ultra Cross® Knotless Netting.
Ultra Cross' 1.2 mm low profile twine, along with the braided and knotless construction, makes it exceptionally strong while providing fans with 54% more see-through visibility than industry standard #18 netting. "It's the kind of safety netting system you see at most of the Major League Baseball stadiums," Erickson said. The project was completed in April of 2016.
The renovated Martin Stadium hosted its debut women's lacrosse game on March 8, 2016 with a 17-11 win against the Marquette Golden Eagles and Hutcheson and Lakeside Fields opened at the start of the 2016 fall pre-season. With the projects completed, Northwestern University athletes can now enjoy playing lakeside at one of the most idyllic and state-of-the-art college facilities in the nation.